Looks like I am in a cabbage mood these days… Last Sunday we had the Spicy red Cabbage Quiche and today's day is all about Vegetarian Stuffed Cabbage Rolls. Although, when thinking of a plain cabbage head I don't feel that tempted to nibble on some veggie treats. But, a complete little dish with a cabbage leaf wrapped around a wholesome potato, carrot and broccoli stuffing, might just be the current thing !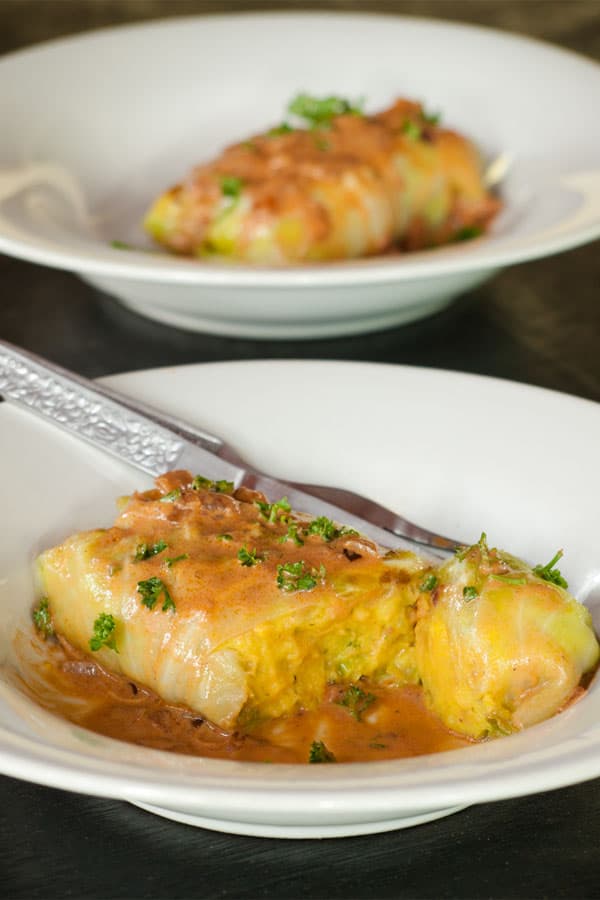 This recipe was inspired from a cookbook. Yes I got some cookbooks in the last few weeks, and then too some essential ones. My German friend had send me a neat Bavarian Cookbook! Many of the dishes in there are not new to my taste buds, in fact the Bavarian & Tyrolean Alpine cuisines, have many similar elements. The traditional dishes such as Semmelknödel (Bread dumplings), Sauerkraut and Trout with Butter Parsley Potatoes are present in our midst and across the border.
In this little Bavarian cookbook I discovered something I hadn't had in a while, Stuffed Cabbage Rolls. In some of the German dialects it is better known as Krautwickerl and apparently this is a common dish in the rest of eastern Europe too. Here is a list of names and variations, so as you can see it's a common loved meal by everyone!
This particular stuffed Cabbage Roll was full on veg! Imagine my excitement, simply because our daily menus in central Europe are mostly dominated by meat. Not that I am against meat, I love it and some of the delicious posts on this page proof my "addiction" for the red flesh, but sometimes its nice to just go veg for a meal or two. You know what I mean?
So I followed the recipe and cooked the meal. Then I did it again and now its part of our home menu, however over time I changed an ingredient or two, manipulated the seasoning, and tweaked some grams here and there, so to come up with a new healthy stuffed Veg Cabbage Roll. I mentioned healthy because I dared to throw in Turmeric powder once again and as you might know already it is an excellent Antioxidant. Here for more Turmeric health benefits.
Further I have added some green Broccoli to the stuffing so to give the dish some more value and flavor texture. I found a new good broccoli source here in Goa, therefore you might see more broccoli recipes in the future! The Vegetarian stuffed Cabbage Rolls come with a creamy salmon colored sauce, which is easily made at the last stage of this recipe.